Spanish rabbit casserole: This is a dish of my own creation that i came up with today, it was a total success and i think my favorite way to eat rabbit to date!
Ingredients:
1 x jointed rabbit.
2 x medium onions, quartered.
3 x cloves of garlic, crushed.
1 x tin of tomatoes.
75g of pancetta, or diced streaky bacon.
Sliced chilli, to taste.
1tsp of paprika (smoked preferably).
15 x green olives (whole but, stoned).
2 sprigs of thyme (or 1tsp of dried).
3 x potatoes, quartered.
¾ a pint of chicken stock.
100g of chorizo.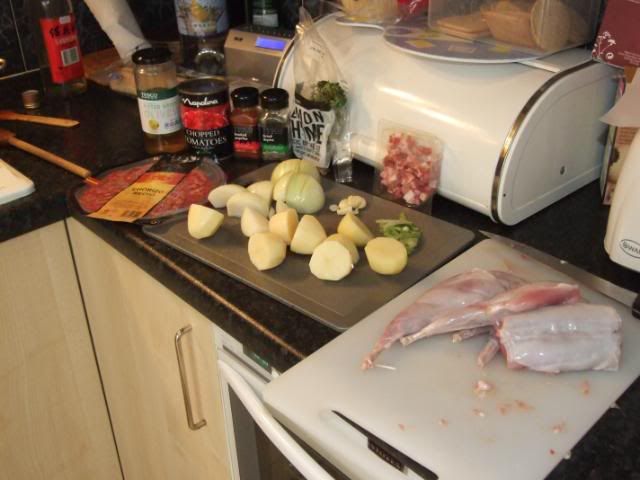 Stage one:
Fry the pancetta / bacon in a frying pan with a little oil, once crispy place in to the bottom of a casserole dish. The lightly fry the quartered onions and again layer in the bottom of the dish. At this point you can also add the raw potatoes and the springs of thyme to the dish.
Stage two:
Roll the rabbit joints in seasoned flour and then brown in the frying pan. Once nicely browned place in the casserole on top of the other ingredients and leave to one side. Start preheating the oven to 180ºC.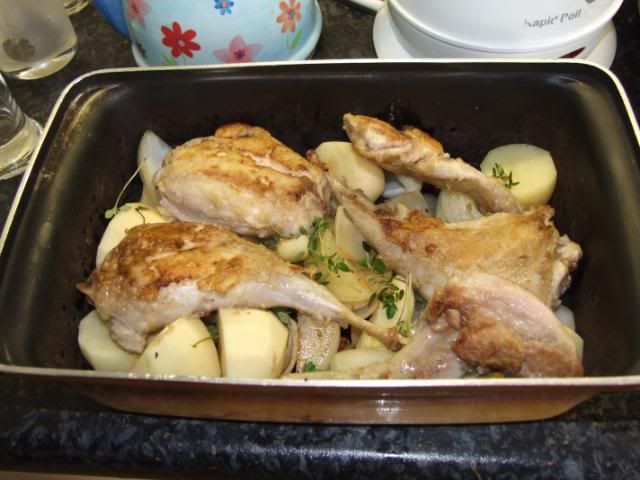 Stage three:
In the same frying pan gently fry the chillies, garlic and chorizo for about 2 or 3 minutes. Add a tsp of smoked paprika and stir it in. Then add the tin of tomatoes and the green olives and bring up to the boil. You can then spread this mixture over the top of the other ingredients.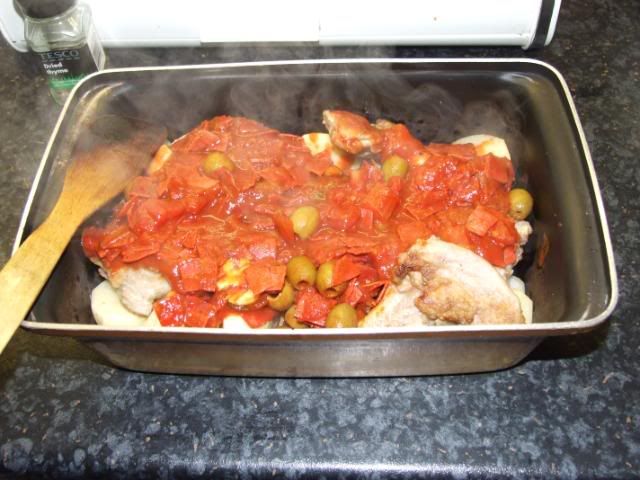 Stage four:
Pour the stock in to the casserole dish and put the lid on and place in the pre heated oven. Give it about 10 mins at 180ºC and then turn the oven right down to 140ºC and leave to casserole for about 3 hours (cooking time will differ depending on your oven). Check the dish every 30mins to and hour to check that it is not drying out (if it is add a little more water / stock or wine. It is ready to eat when the meat is tender and falling off the bone. Enjoy with what ever you want, but I did it with home baked ciabatta bread and some veg.
Sorry I forgot to take a photo of the finished dish till I had eaten most of it….. you get the idea anyway.